Stretch me by LET'S RELAX
Our studio provides Stretching and Trigger Point relieving that help relax the muscle as well as reduce muscle fatigue and pain. The service will be performed by our sophisticated specialist (PT/SS) who specialized in the Science of physiology For booking, please call our studios directly, or contact us via Line: @stretchme STUDIO LOCATIONS : ICONSIAM, Bangkok - 5th floor, Education Zone Phone: 02-117-4525 101 THE THIRD PLACE, Bangkok - 2nd Floor Phone: 02-010-7200 NIKKO HOTEL GINZA THONGLOR, Bangkok - Nikko Hotel Bangkok No.27, Room No.201 , 2nd Floor, Soi Sukhumvit 55 (Thonglor), Klongtan Nua Subdistrict, Wattana District, Bangkok 10110 Phone: 02-136-4227 Remark: The customer warrants that he/she is not injured, abnormal physical, infected, disease or has any symptom as requested by the list of Public Heath Ministry or as requested by the service provider which are prohibit he/she from using the service. The customer affirms that his or her physical is ready to use the service. If the information given to the Company or service provider is not true and correct, the customer agrees to not claim any damage caused to the customer arising out of the service to the Company and/or the service provider.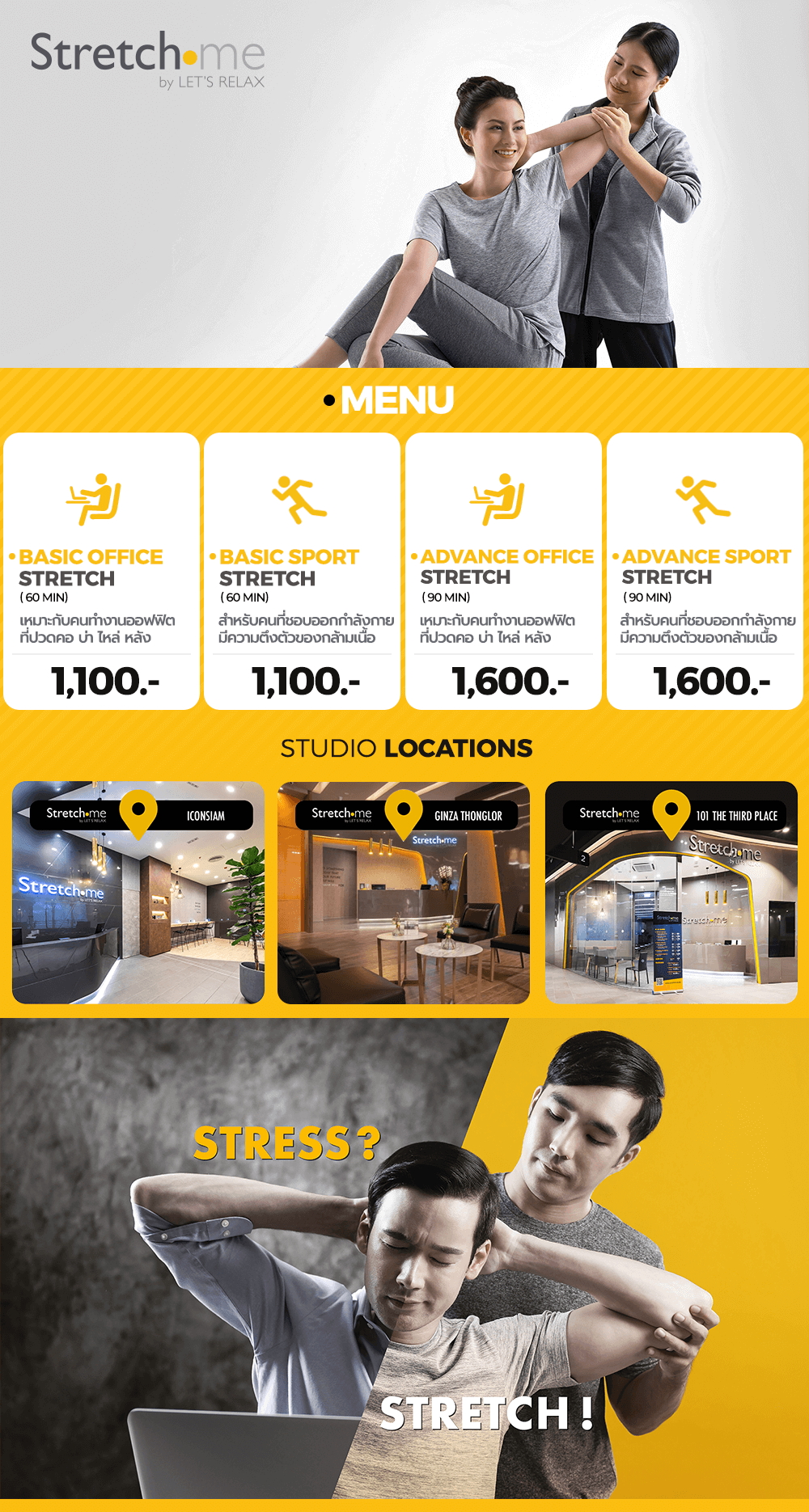 Sorry for the inconvenience, Tickets or Services are currently not available.
---
REMARKS & CONDITIONS
- Advance booking is recommended, and is subjected to availability. - Please present ticket upon redemption. - Ticket is non-refundable for cash. - Ticket valid 3 months from the issue date. - Term and conditions as designated by the company. - Please kindly inform "Stretch me" 24 hours in advance if you wish to make a change to your booking. - For more information, please contact Line: @stretchme
EXPIRY DATE
Next 90 days after purchased